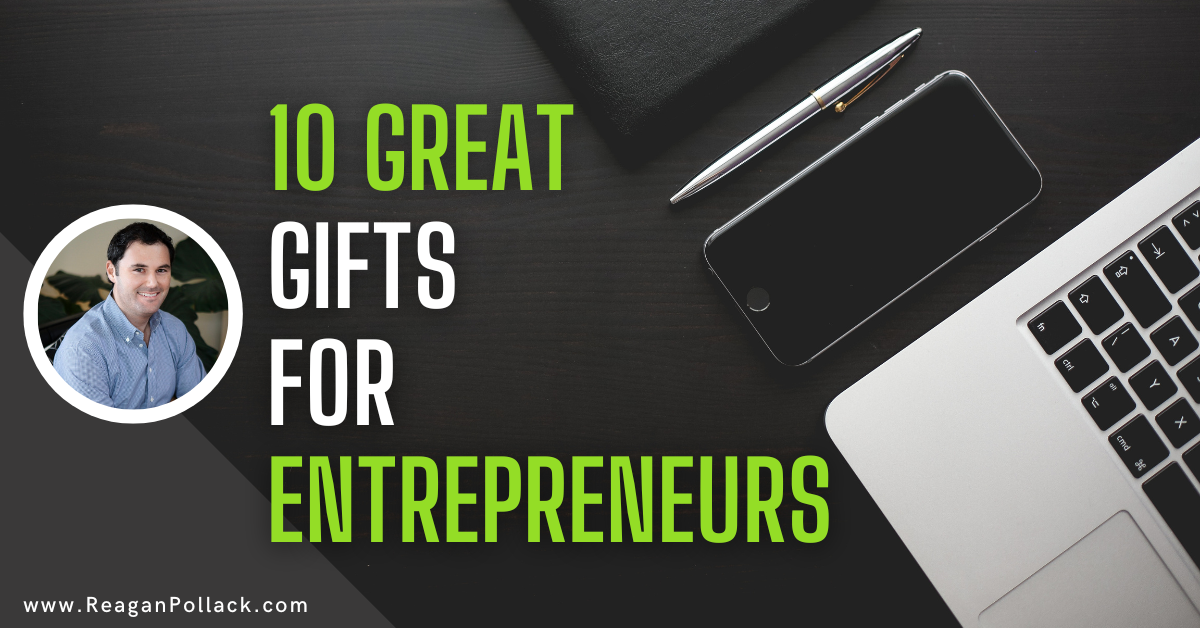 Top 10 Best Gifts for Entrepreneurs [2022]
this article contains affiliate links
Starting a new business venture can be daunting, but with a little help from some technology, ergonomic gadgets, and modern amenities, new founders will be on the road to growth in no time. Long hours sitting can do a number on your back and body. Eyes can become glazed over pulling all-nighters writing a business plan before an important investor meeting the next day. Founders and small business owners need the right tools to get them across the finish line.
Top 10 Best Gifts for Entrepreneurs for 2022:
Herman Miller Chair: While you can easily spend over $1500 on a Herman Miller Chair, you can often find deals on Amazon or other retail sites for deals that cost up to 50% off. After starting several companies, using hand-me-down, used telescopic chairs, I can tell you that your back will thank you by investing in a top-quality, ergonomic chair. Not only are you able to adjust the height up and down, but you are also able to adjust the arm-rests forward and back and up and down depending on if you are writing, coding, or selling your startup's products in a long meeting. I ordered my Herman Miller at the start of the pandemic and found that it has been hands-down my best investment. I spend hours doing graphic work, writing, blogging, sending emails, on conference calls, and even day trading and my back is never once sore from sitting – that means a lot given how many hours per day we often sit (8-12 on average for me). I personally ordered the Aeron Size C (shown in black below), as it offers the widest range of adjustments. I also recommend the carpet caster wheels so you can easily roll around the office and to your desk. Pictured from left to right: Herman Miller Sayl, Aeron, Embody models.
2. Logitec MX Master 3 Advanced Wireless Mouse: Long hours sitting at your desk coding, writing business plans and emails, and building websites can cause major hand and wrist tension and potentially long-term pain. Last year I invested in a top-quality wireless mouse that provides ergonomic comfort, fast tracking, easy scrolling (vertically and horizontally) and programmable hotkeys (on the side and top, the scrolling mouse trackwheel also can be programmed to whatever you want). The mouse is rechargeable and connects with the included cable to your USB port, and charges really quickly. The battery life is several weeks minimum I'd say with one charge with moderate daily computer use (4-5 hours/day). One of my favorite features about the mouse is the shape – it perfectly fits your hand angle (to the slope when at rest), as compared to a traditional more rounded mouse that you have to turn your hand more left to use. This mouse just feels great to the touch, comes in black and silver (which I own), and has a laser tracking system that never misses a beat on a mousepad or even on a flat surface which is great to bring to meetings off-site with investors or pitches with other entrepreneurs.

2. HP M 27″ Wide Screen Computer Monitor with LED display: There's nothing worse than trying to spend hours reading financial documents in small print on a spreadsheet on a tiny computer or laptop. I invested in two (side-by-side) 27″ monitors to provide me with over 50″ of visual space to get more stuff done, faster. I can have one monitor open with a spreadsheet and the other with a browser for research and Outlook for e-mails. For me, I simply could not get all of my work done as fast as I can do today without the help of a large monitor – once you go to a 27″ size you never want to go back to a 20″ size – believe me. Website design, coding, writing business plans, doing graphic design work – it all becomes a breeze once you give yourself enough space to see it all. Plus, your eyes will thank you as many of the monitors have a blue-light adjustment to offset the harmful blue-light that strains your eyes, causes fatigue, and actually disrupts your sleep pattern.

4. HP Omen Computer Business/Gaming Tower (PC): Slow computer processing speed can be a major disruption for entrepreneurs running multiple programs at one time. Often I'll have Adobe Photoshop, Chrome with several tabs open, Excel spreadsheets, and other programs all running at the same time on the HP PC, and it handles it without even a hiccup. The main jobs in my opinion for a great PC is to be super reliable (no startup issues), have fast processing times (which it does), and have excellent space for storage (founders have tons of files we need to store locally and on the cloud), and be able to run multiple monitors and programs all at the same time. The HP OMEN is a beast and does all of this with flying colors. The OMEN is both a workstation for business and can also be an excellent gaming or day trading PC. I personally opted for the 30L size, 1TB SSD (solid state hard drive for better performance), AMD Ryzen 7 5800X with 16GB memory NVIDIA GeForce RTX 3060 Ti graphics card in Jet Black.

5. Audio-Technica AT2020 Microphone: Given that for the last two-and-a-half years most of the world has been on video conferencing calls such as Zoom and Microsoft Teams, I felt it prudent to upgrade my microphone to a high-quality one that would not only sound great but would also enable me to record professional sounding voiceovers for recording my audiobook No Startup Left Behind on Amazon. The AT2020 was rated one of the best performing mics that were within budget (under $100) that could serve dual purposes for me – great-sounding conference calling and audiobook/podcast recording. Moreover, having a great quality mic makes you sound more professional when being interviewed by the media, and that's critical to the appearance of your business. Make a small investment for your business and grab one of these, they won't disappoint.

6. iRocks Ergonomic Keyboard Gel Padded Wrist Rest: Comfort for your back (check), comfort for your right hand (check), what about your wrists and elbows? That's where the iRocks Ergonomic Keyboard Gel Padded Wrist Rest shines – it simply fits right in front of my keyboard and provides a really supple, soft yet supportive guide for my wrists while I type (so I don't have to hold my hands up and type), which helps me write for much longer and without any hand discomfort. Plus, when I am on a call or browsing a website, I use it as an elbow rest and it saves me from that nagging elbow pain that often comes from long hours pressing up against the hard surface of a desk/table. For under $20 bucks, this gadget is a life saver. Once you try one, you never want to work at another computer desk without one – believe me.

7. Corsair K70 Wired Mechanical Gaming Keyboard: Having grown up playing video games and computer games, I learned the hard way that keystroke speed can often mean the difference between winning a game or losing. Corsair is a leader in the wired and wireless gaming keyboard and peripherals market, and I decided last year to give their highly rated K70 mechanical keyboard a try. What's great about their keyboards is not just the fact that they have a full numeric pad (which I love for spreadsheet madness season and building financial proformas), but also that they offer a wide range of style keys depending on your preference for how much you have to press down to engage the key and also the sound (click) of them – yes, some people want them really loud – reminds me of the movie Office Space "Corporate Accounting, just a moment!". All jokes aside, the K70 keyboard is easy to use, has programmable lights based on your preference which looks great in the evenings or early mornings, and never once have I pressed a key and it didn't respond perfectly. The keys seem to be built extremely well, and I believe I will have this keyboard for a very long time as it is serving me really well to get things done quicker.

8. Kindle: Busy entrepreneurs who are on the road zipping from meetings to investor presentations to tradeshows, don't have much space to pack a bunch of books to read. I love the Amazon Kindle, because I can easily throw it in my bag or car and bring millions of titles with me wherever I go. I can catch up on the lastest business book, or skim through today's magazines when I've got 30 minutes to spare. The battery life usually lasts 3-4 weeks on one charge, and the upgraded backlit display saves even my eyes from fatigue after a long day staring at computer screens at the office. Founders need to be learning the latest materials in their field, be inspired by other entrepreneurial greats, and sharpen the saw, and the Kindle can do just that.

9. FLEXISPOT Electric Stand-Up Desk with Adjustable Height: Back strain when building your business is a real headache. The easy way to eliminate that is to grab a stand-up desk that you can raise several times throughout the day. I love my FLEXISPOT because it has a programmable height (4 available spots on the side so you and another co-worker can each have their own height settings), and it had USB and Type-C charge ports built-in so I can connect my Apple Watch, iPhone, or recharge my Mouse. I have found that by standing for several hours a day while working, I am significantly less fatigued, which means I have more brainpower to get stuff that really matters done. What's really cool too is that the FLEXISPOT has a full drawer that comes out that can hold your personal items, paperwork, pens, markers, or valuables while you work which leaves your desk looking clean and crisp. I ordered mine in white, and it has this really clean glass top.

10. Apple Watch Series 7 with GPS and Cellular Service: Busy entrepreneurs like myself get a million emails, text messages, and ping notifications a day – we simply don't have enough time to get back to everyone immediately, but we do want to ensure that we don't miss something critically important. That's where for me, the Apple Watch Series 7 is a life-saver. The watch enables me to turn my phone off or simply keep it away from me while I am busy working, on calls, or in meetings, and therefore I am less distracted and more focused on the task at hand. Plus, my co-workers, investor partners, or friends can contact me and I can quickly look at the watch face to see their messages and requests. I can honestly say that I love not being glued anymore to my phone, and I use the fitness tracker on the watch to monitor my physical activity throughout the day including steps, movement, closing my fitness rings, and monitoring my heart rate/oxygen rate when exercising, and sleeping patterns. I love waking up to see that I've scored 8 hours of sleep (although that doesn't happen as much as I would like, however, I am working on it!). The cell service is a must for me as I am able to take important calls on the go while exercising, on a walk, or running errands. Siri is able to book my calendar with events, set up reminders and notifications, and give me directions and weather reports when I am too busy to check my computer or iPhone. I view the Apple Watch as a personal assistant, a small investment for saving so much time, getting more of my passion projects done in a day, and reminding me to take valuable breaks to breathe, walk, and get up and move – all vital to my long-term vitality and energy.

So that's a wrap on my 2022 Best Gifts for Entrepreneurs. I can honestly say that I own all of these amazing products and that I would only be recommending them if I believed strongly in them that they will help you get more done, feel better throughout the day, and grow your company with greater ease to new heights.